Learning together and feeding our community
5th Annual roberti culinary pathway fundraiser
— Support Our Students and Programs
In 2018 the RCP kitchen opened because of you. We need your help to expand our workforce opportunities with our newly opened RCP Café!
Your support of Roberti Culinary Pathway's Feed the Need allows the RCP kitchen to remain active with hands on training, hospitality, and workforce development skills that are expanded in our newly opened Café. Food prepared by our students goes back to support food-insecure families and agencies in Lake County.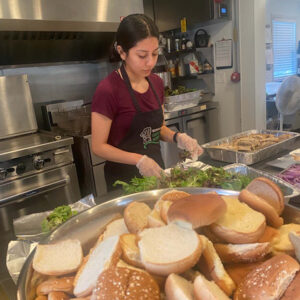 — Here's How You Can Help
Partner with Roberti Community House to "Feed the Need" in the community: 
$50 will provide nutritious lunches for two children for one week.
$100 will keep RCP students developing culinary skills and donating meals to the community.
$250 will feed a family of four for one week.
$1,000 will

expand our workforce opportunities, extending the hours of the Café and

 Roberti Culinary Pathway program

; 

providing the skills, support and opportunity for a path out of poverty.
— Receive a Special Gift and Meet Our Students
As a special thank you, donors who Feed the Need will receive a special Soup & Bread package. This package includes two quarts of nutrient-dense soups made in small batches by RCP students and fresh fall breads.
Please visit our new learning venue, Roberti Culinary Café, to pick up your gift and see us in action!
— Proceeds Support the RCP Program
All meals are created in a teaching environment in the RCP kitchen. All proceeds go back to the Roberti Culinary Pathway and programs that help feed those in need.
— Executive Chef Sponsors
Roberti Community House is a 501(c)3 non-profit organization. Donations are tax deductible to the extent allowed by law. Please discuss with a tax advisor if you have questions.
Board and Committee members
— Roberti Community House Board Members:
Maribeth Roberti, President
Pam Fisher, Chair
Katie Gentry, Secretary
Manny Hernandez, Member
Kevin Hodges, Treasurer
Edgar Navarro, Member
Margie Rodino, Member
— Feed the Need Committee Members:
Jill Bates  –  Alison Bloom
Sharon & Steve Bertrand
Gail & Jim Creath  –  Alyson Dorfman
Lisa and Gary Doyle
Wendi Ezgur  –  Heather Gonzales
Rochelle Meng  –  Kris Nelson
Lois and Harry Nicol
Leia Skie  –  Sally Willis